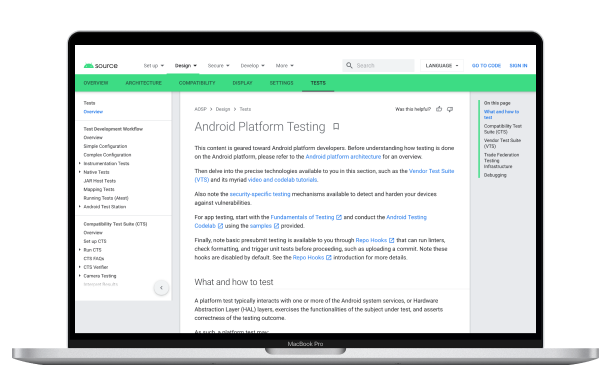 OVERVIEW
Writing for partners of the Android Open Source Project and designing a new navigation flow
ROLE
Technical Writer Intern
TEAM
Technical Writer Manager, Software Engineer, Editor
TIMELINE
June to August 2020 (12 weeks)
The exact details of my project are under NDA. For anyone at Google, feel free to check out my work as rhoh@.
My project consisted of two main parts:
Supporting the Android R release
Implementing a navigation to Android's documentation site↗ (impacting over 7.4k users each month!)
The target audience is for Android partners, who are often developers with strong technical backgrounds. Users are expected to be familiar with the Android Open Source Project, but not necessarily testing. The documentation guides users on how to customize testing to a specific user interface. In addition, the target audience also included Android partners who integrate Android TV for their products. The users have strong technical backgrounds and specifically have experience with TV frameworks. I wrote the content and created the graphics, with the help of the software engineer lead and the team editor.
The following docs were originally published in summer 2020, although there may have been changes since.
Other deliverables include:
Final Intern Presentation
Doc Plans
Drafts