Nowadays, professors face the challenge of gauging how well the hundreds of students in the lecture hall understand the material. On the other end of the lecture hall, students try their best to summarize the content in their notebooks or on their computer.
Polling made easy. Pollo lets professors ask questions and take live polls through our mobile and web applications and recieve real-time feedback to gauge which topics their students understand, and which ones they may need spend more time on.
Send live polls. Want to know how prepared students feel for the exam or test their comprehension of the lecture? Quickly create a live poll and send it out during class.
Create drafts. Plan ahead for your lecture by pre-filling the polls you intend on using during class.
Organize your groups. Your polls are labelled with the date they were sent out and organized into custom groups. Use this to see trends in the poll outcomes.
Receive live feedback. As users choose their answers, Pollo shows the results to poll creators using easy-to-read percentages and data visualization.
Since my university transitioned to mostly online classes for Fall 2020, I teamed up with the product marketing member of the Pollo team to evaluate professor's adjusted teaching styles remotely.
I conducted user interviews with professors from different departments and disciplines. From these chats, we identified two separate journey maps and personas.
Journey Maps


Personas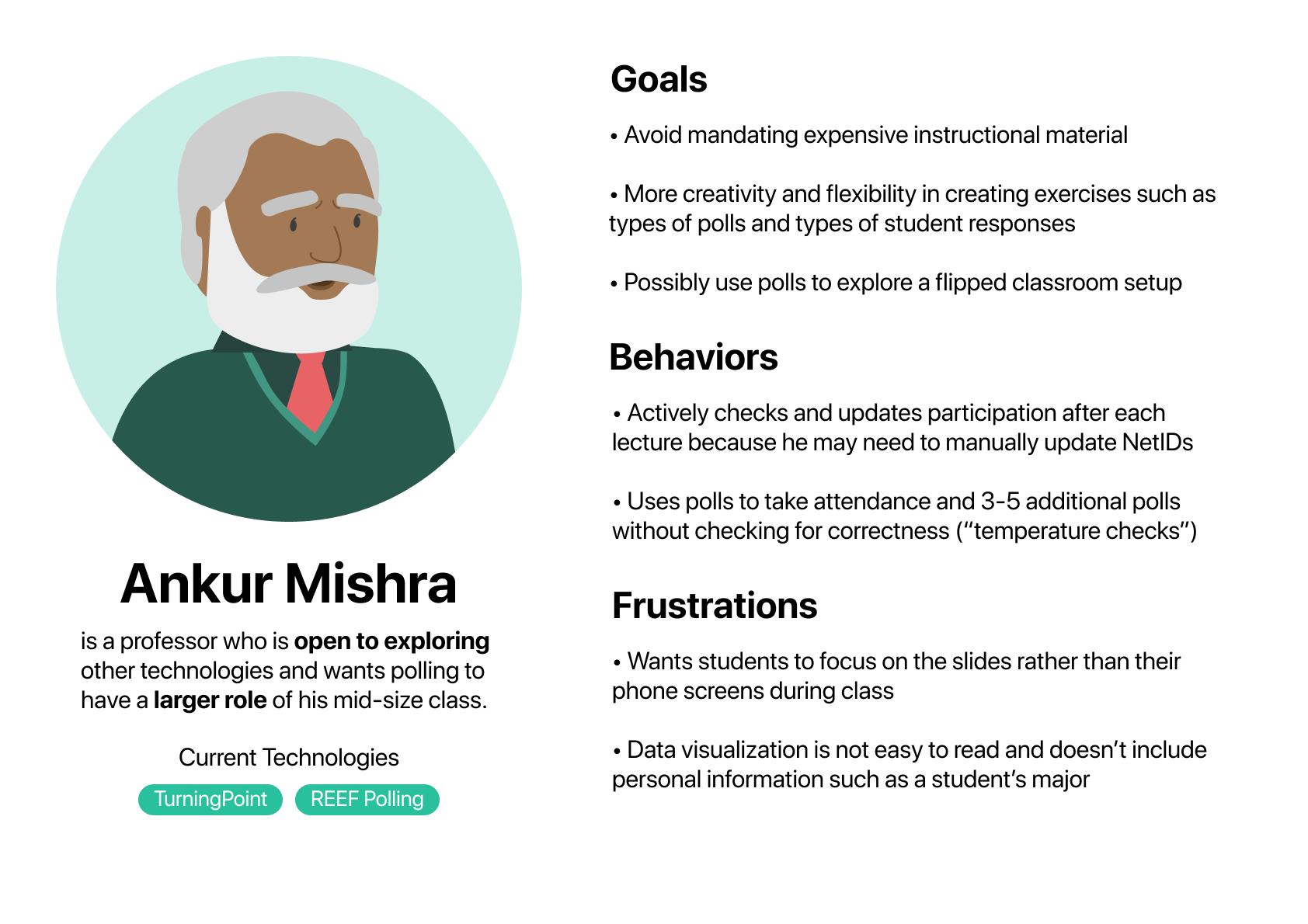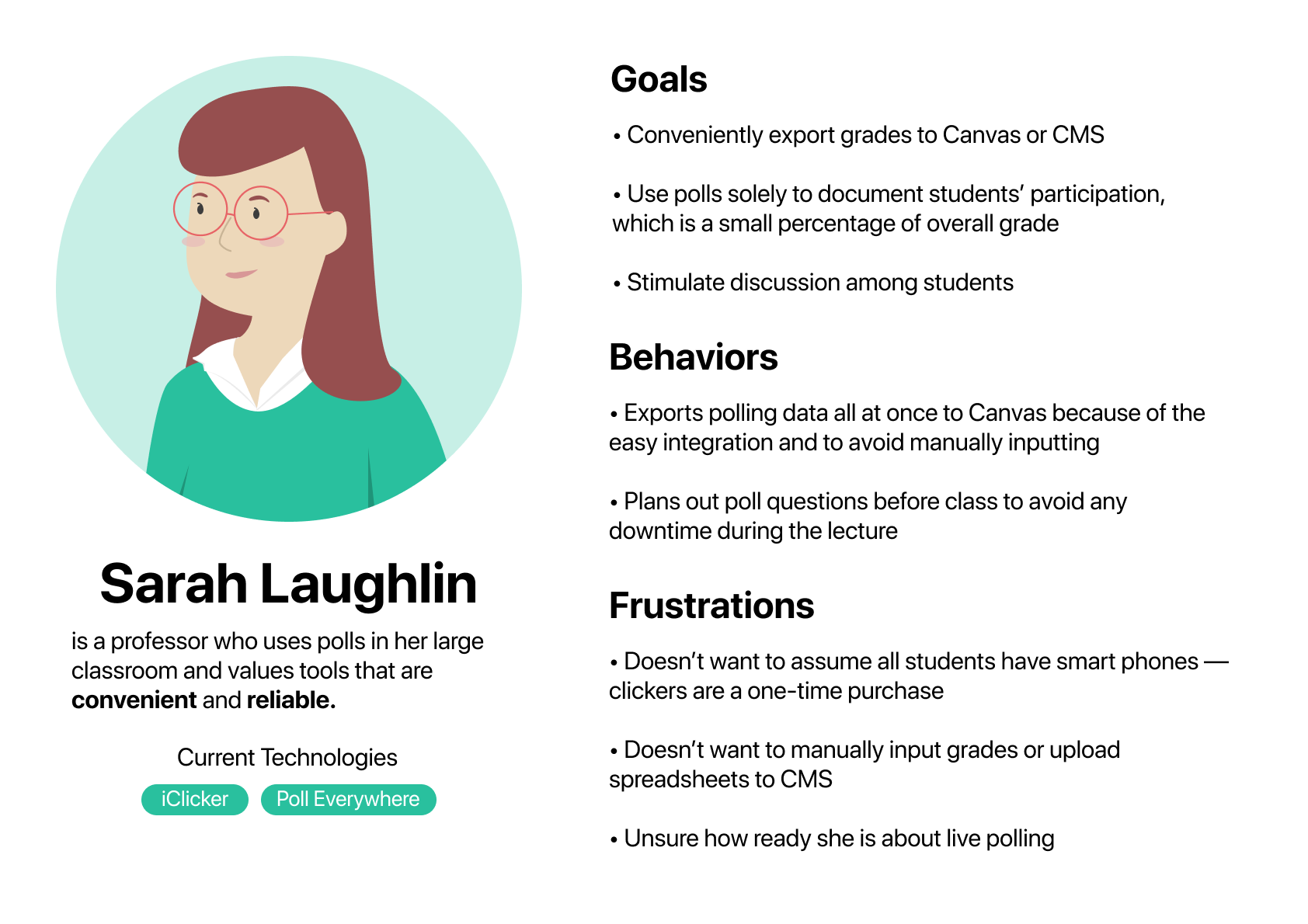 Professors wants organize students' grades but they can't do this well because:
They have to manually sift through exported data to award participation points
They care about differentiating participatory points and grading for correctness
The solution
Allow professors to customize the point system of different sessions to count for participation or correctness.
Iterations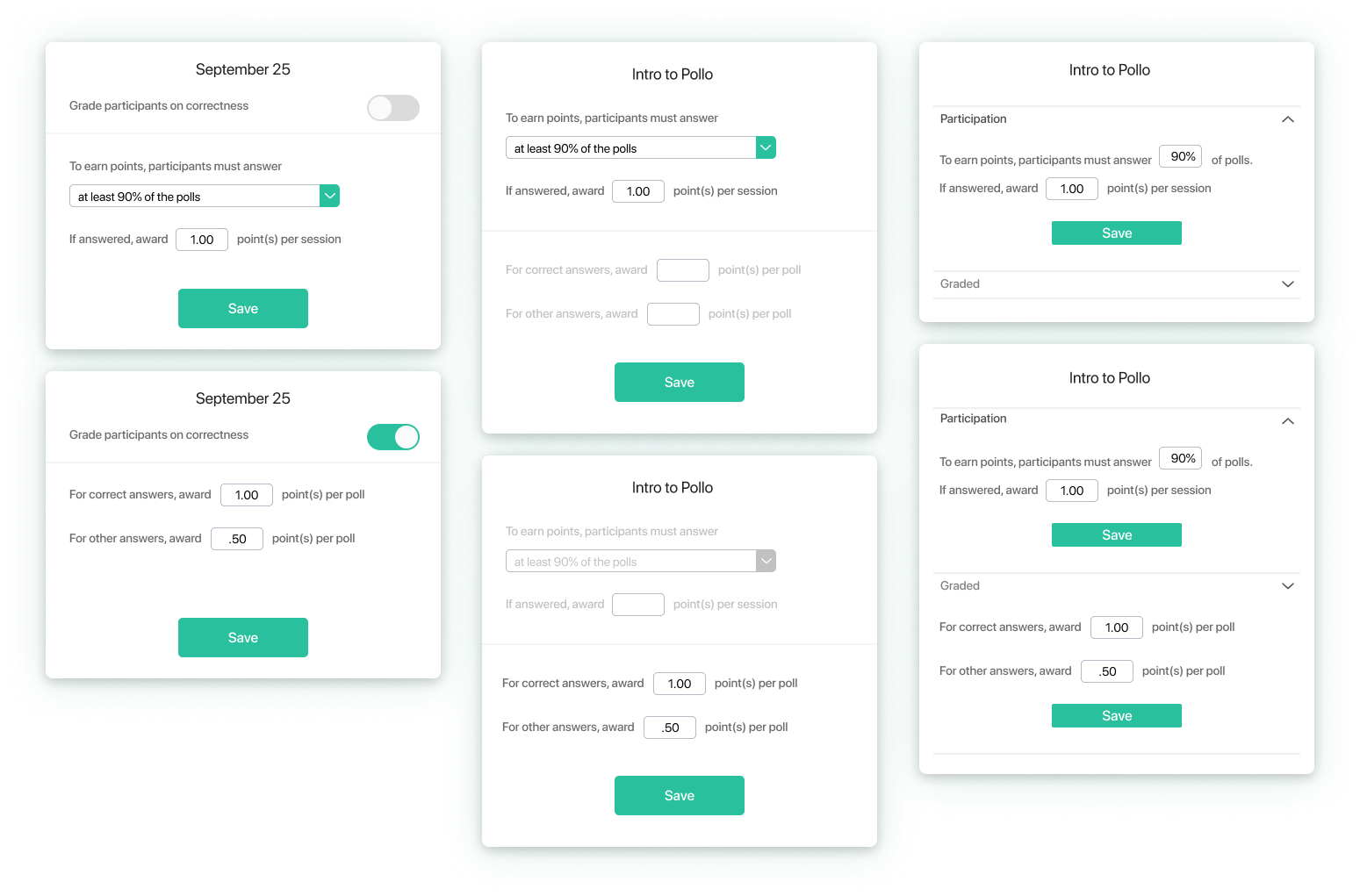 Final Design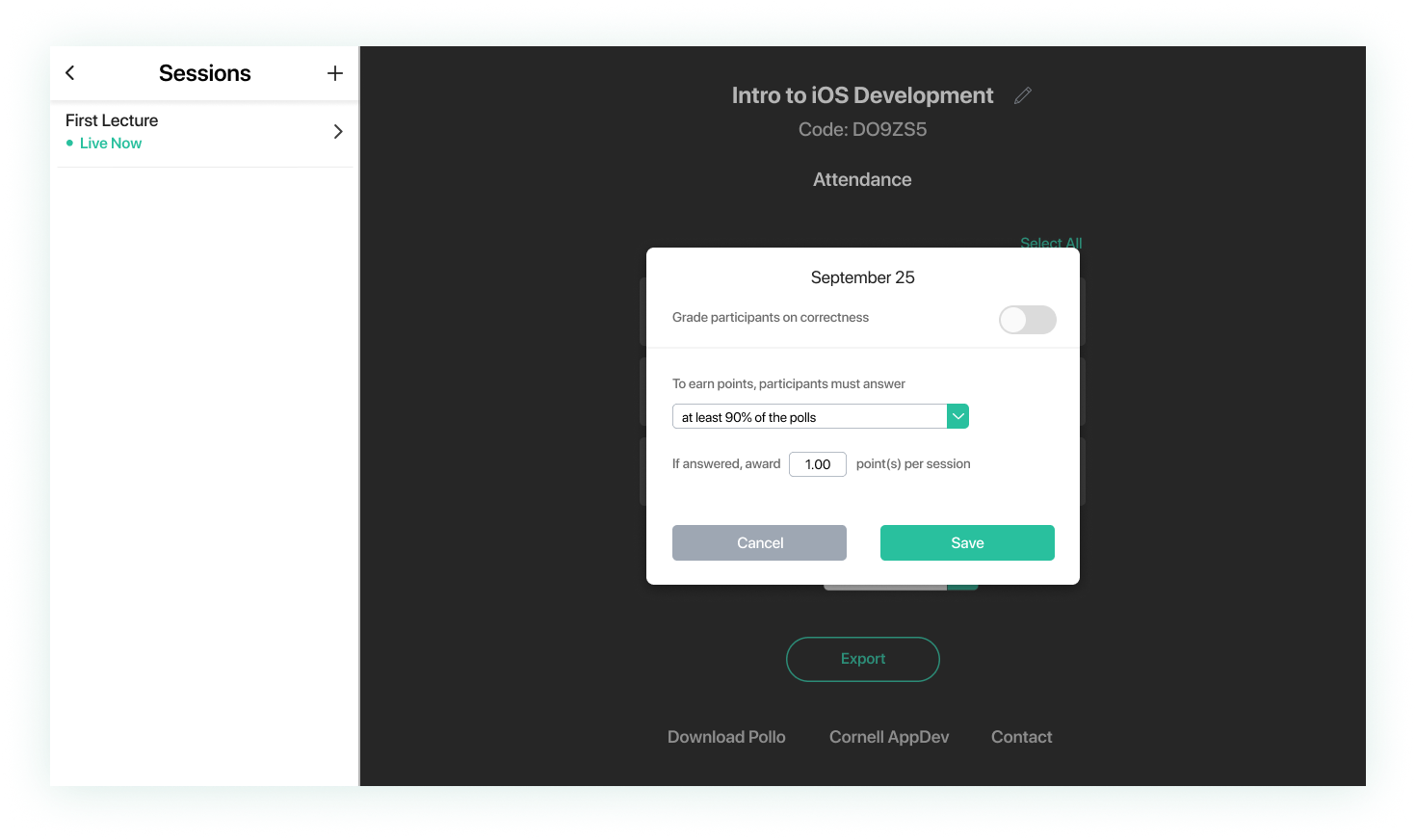 I joined the Pollo team when they had the goal of launching the app by the end of the semester. It was daunting to familiarize myself with all the Figma files filled to the brim with Pollo designs. Sifting through the interactions, I identified 2 main issues to tackle before the upcoming launch:
Visually representing which answer is correct to the student-side user.
Create an identity and marketing artifacts for Pollo's launch.
1. How do I know which answer is correct?
In Pollo, poll creators can choose to assign an answer to be correct or not. If they do, after the share the results of the polls, poll users should be able to see which answer is correct. The existing solution did a great job of visually representing the correct answer and indicating which answer the user chose. However the solution posed two issues:
The light green and gray fills did not contrast heavily, posing an accessibility issue for colorblind users.
Users could not tell if there is a correct answer if no one chooses the correct answer.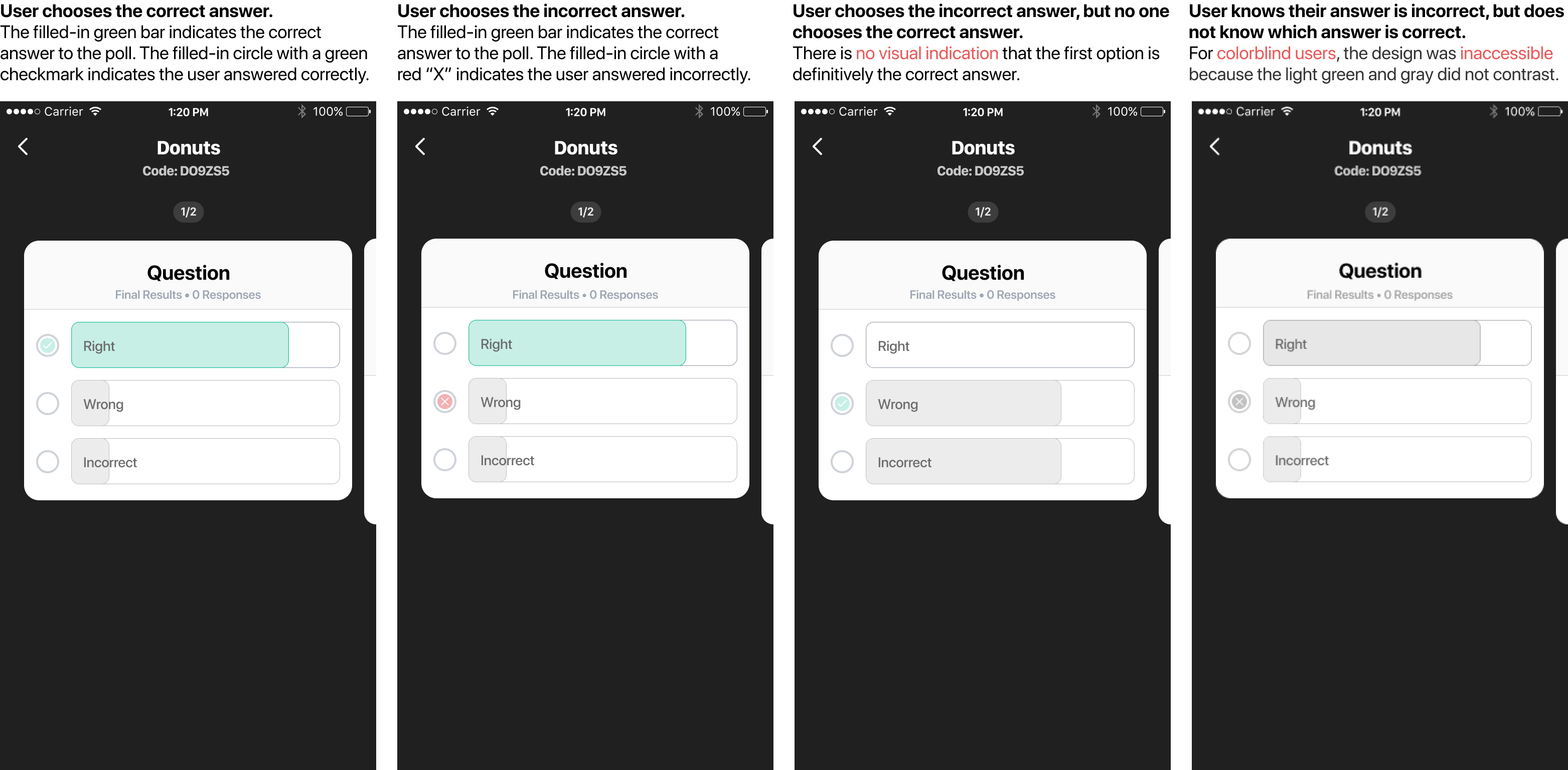 I created iterations for indicating the correct answer while actively designing for both user considerations. I specifically avoided solutions that required the use of red to indicate incorrect answers. When used in classroom settings, red can carry a negative connotation that represents failure or defeat. I did not want to negatively impact the learning experience, so I focused more heavily on portraying the correct answer instead.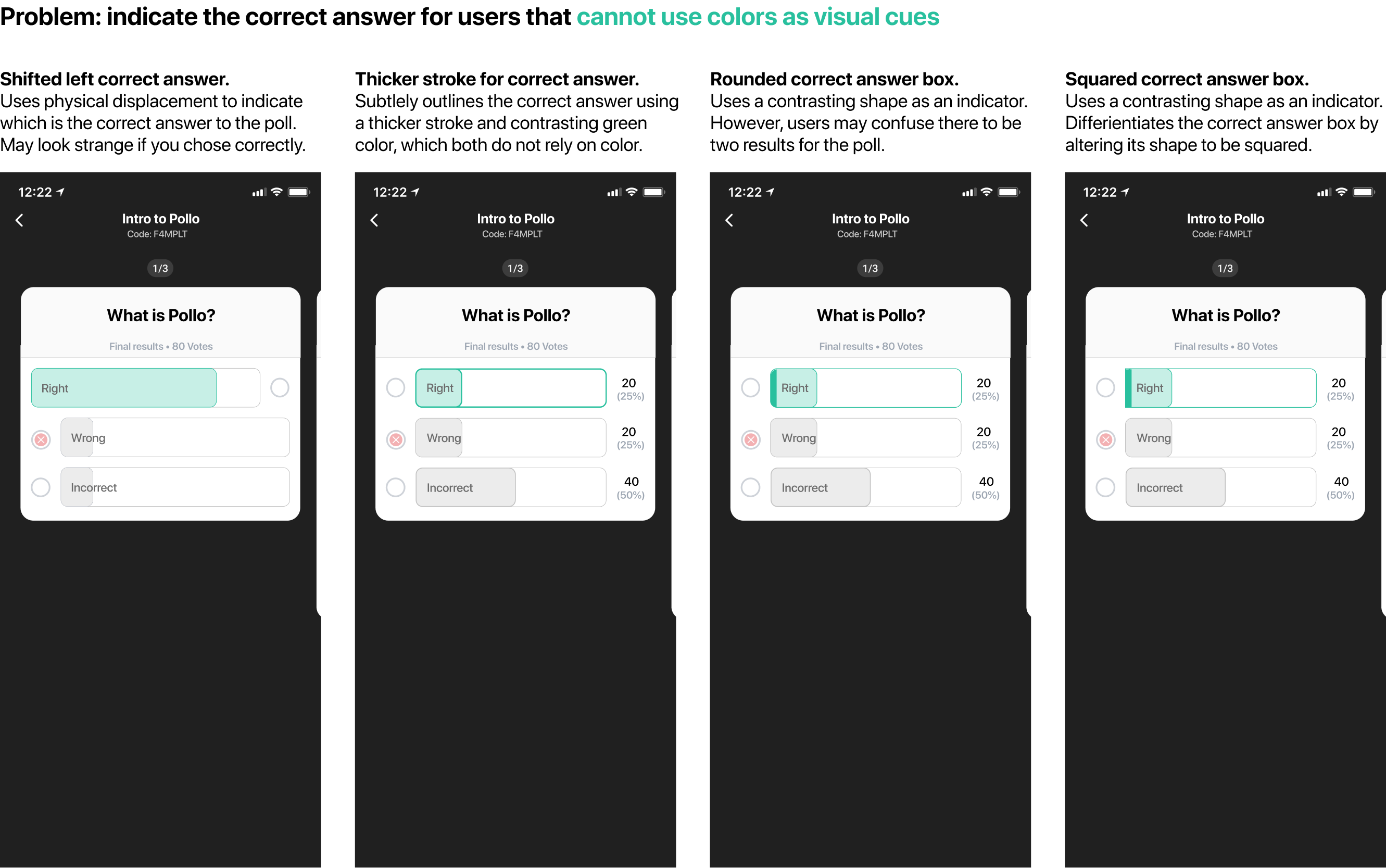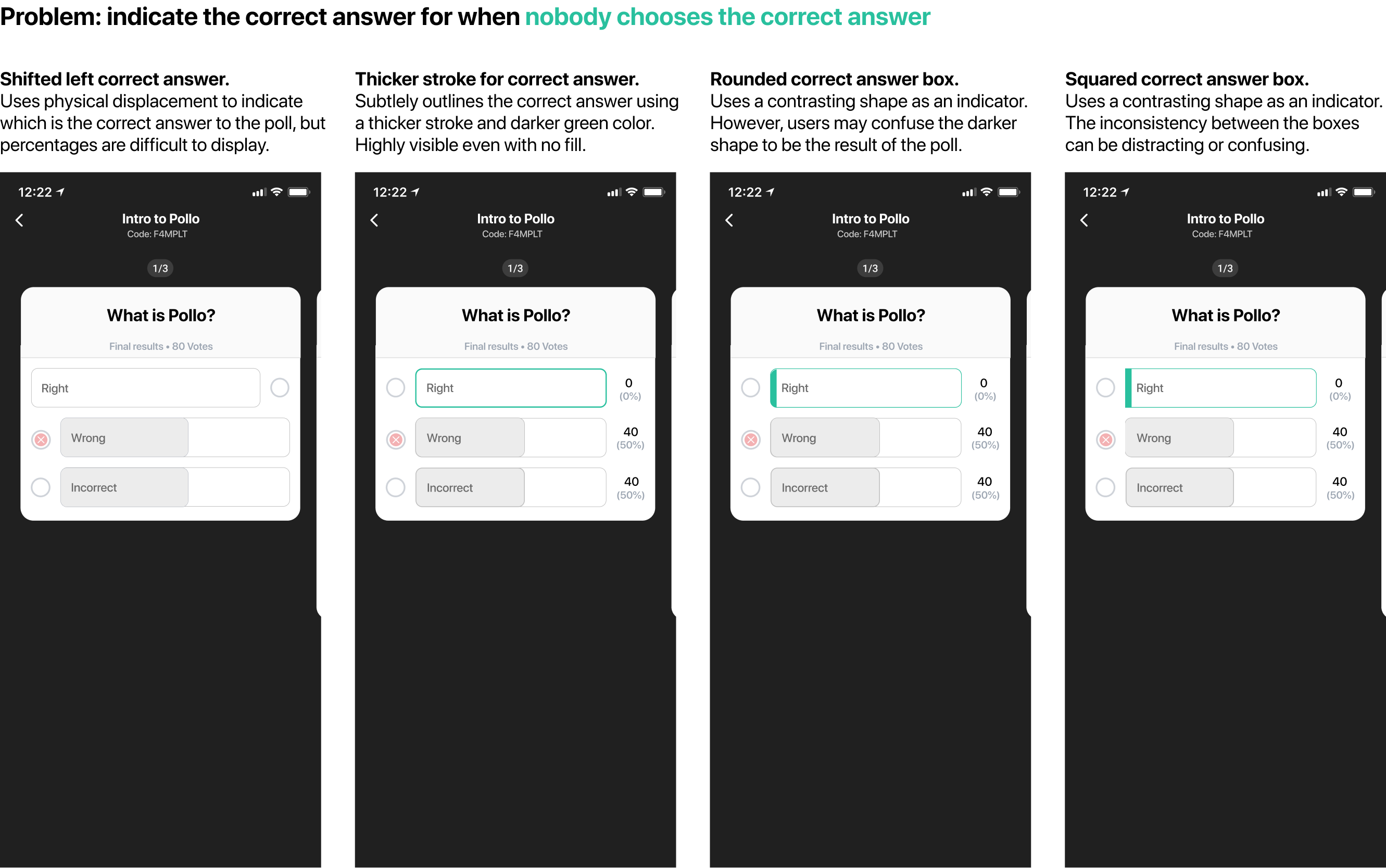 Ultimately, I chose the solution that uses a thicker stroke and darker green color to indicate the correct poll. It does not rely solely on color as a visual indicator and is not confusing when no one chooses the correct answer, making it is a viable solution for both audiences.
The final interaction for instructors and students: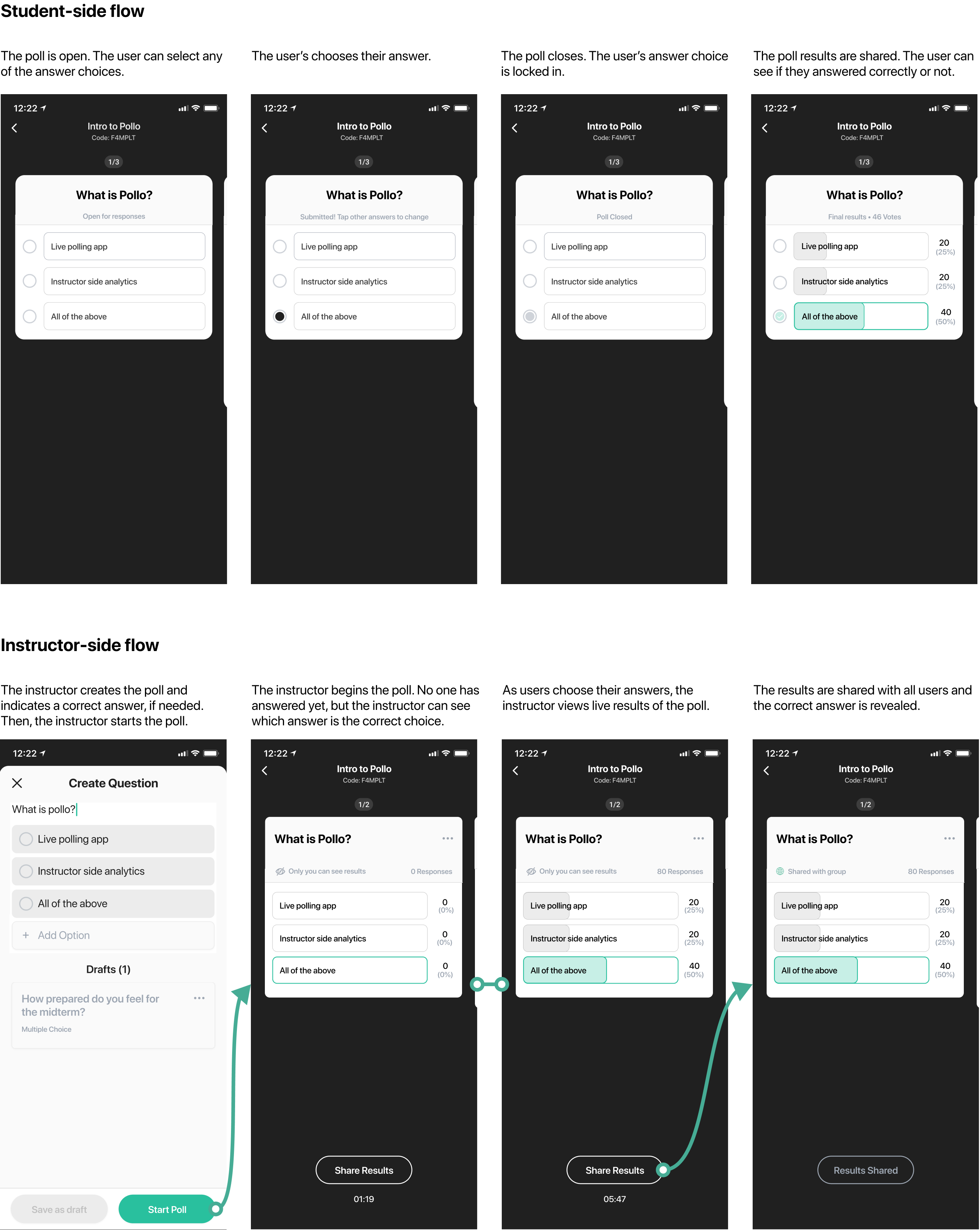 Learning Pollo's identity
Pollo exists to facilitate interactions and back-and-forths between professors and students. I used small stars and sun rays to convey the experience of many students in a classroom inputting their answers simultaneously. I used a subtle gradient for the background to convey the dynamic nature of how the polls react to real-time results. The transparent components, such as the Pollo logo, checkmarks, question marks, and percentage signs, represent the data visualizations that formulate as the users answer the polls.
I wanted to highlight Pollo's unique features so I designed a custom poll that asks "What is Pollo?", in which all answers are correct.
Social media graphics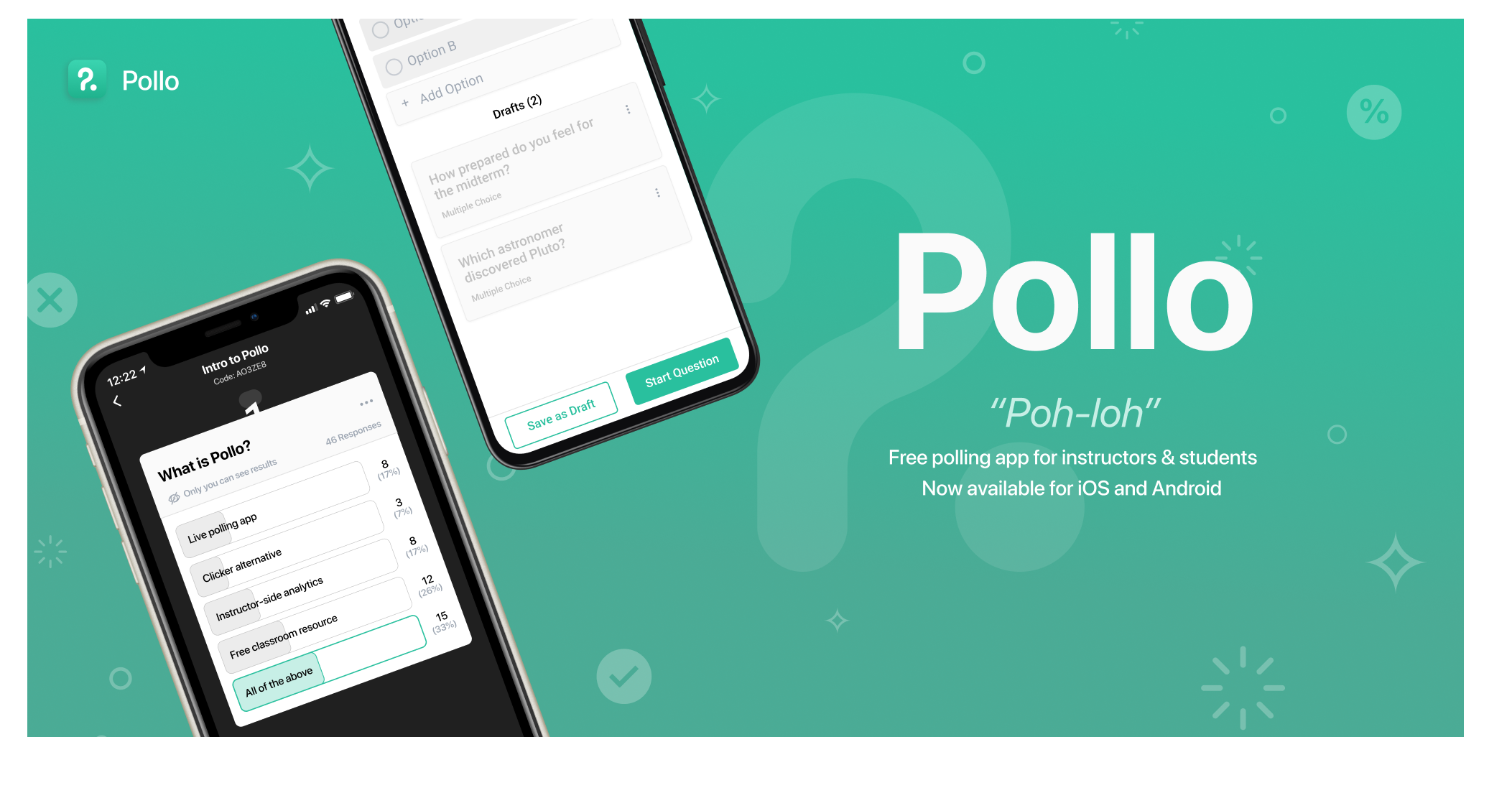 App store graphics

Pollo is available for download: